Who are the most memorable dentists to ever grace the silver screen?
The role of the dentist in movies often gets a bad rap! But that's not to say there haven't been some very memorable dental performances throughout the history of cinema. Sure, the staff here at Rolling Ridge Dentistry in Raleigh, NC takes a little exception to some of these portrayals. But here are our top 5 picks for memorable dentists in movies.
Doc Holliday – Tombstone (1993)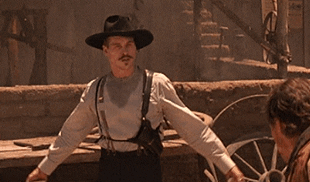 (c) Cinergi Pictures Entertainment
Before he was slinging guns, Doc Holliday was slinging floss! While his dental days are over once he hits the screen, Val Kilmer is here to remind us what happens when a good dentist goes bad. Don't worry, our Raleigh dental staff are the good guys.
Hermey the Elf – Rudolph the Red-Nosed Reindeer (1964)

Finally! A dentist we can get behind. This beloved children's classic is full of charm… and passion about dentistry! Who out there remembers that all Rudolph's pal wanted to do was learn about bicuspids?
Lawrence – The Man Who Knew Too Much (1935)

We're taking you back all the way to 1935 for a dentist who (SPOILER ALERT!) is not REALLY who he appears to be… Maybe the first dentist on the silver screen to inspire such absolute terror in the audience. Thanks a lot, Hitchcock!
P. Sherman AKA The Dentist – Finding Nemo (2003)
(c) Disney 2003
Dentist Philip Sherman (voiced by performer Bill Hunter) has a dental practice with some pretty amazing views. The Sydney Opera house!? We love our Rolling Ridge Raleigh location, but waterfront sure would be nice, too. Just like Dr. Sherman, we know how to exhibit patience even with challenging patients like his niece Darla.
Orin Scrivello – D.D.S. – Little Shop of Horrors (1986)

This sadistic dentist (portrayed by Steve Martin) has been single-handedly giving us dentists a bad name since he first landed on the screen. Even though Dr. S gets what's coming to him, we're still a little miffed to be lumped into the same professional camp as him.

Dr. Thomas and his staff at Rolling Ridge Dentistry are making a stand against these unjust depictions of dentists in hollywood! We've got a seat saved just for you!